carSINogenic candy is an indie production house based out of Washington State. We run on low budgets, digital video, creativity and a talented and energetic cast and crew. We work with people who love filmmaking becuase we do too! The company focuses mainly on drama/horror/thriller films that have a strong story line and genuine characters. SIN makes no attempt at duplicating Hollywood. We want to tell true talent and passion driven stories without the over use of CGI or the money wash. We dont take ourselves ultra seriously. We aren't full of ego. We aren't brooding artists. We simply love the fact that we can produce films from the overwhelming number of creative and talented minds that exsist outside of the Hollywood circuit.
From a technical standpoint, here are the basics:
We are a fully functional self contained production house. We shoot digital with a Canon XL1s. We have a full range of sound and lighting equipment. We have two full non linear editing bays running Final Cut. We do all of our own digital FX (sparingly, see above) using Adobe After Effects. We do our own make-up FX, costuming, prosthetics and set design. We like to focus on our own in house projects, but we do work for outside producers. Our years in the film industry allow us many strong ties to wonderfully talented actors, actresses, stunt choreographers, music composers and any crew title you can think of. We try to bring back cast and crew from our own database of "people we love and want to work with again"...but we do look for outside submissions as well. If you are interested in working with carSINogenic candy, please contact us via our contact link.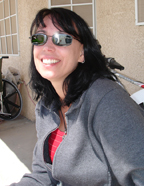 Tiffany Sinclair: Tiffany formed carSINognic candy Productions after several years in the entertainment industry as an actress. She has performed on stage in several states. She has written and produced her own stage works in NY, where she also performed in many legit and award winning indie films and off off broadway stage productions. A story teller at heart, she decided to take on the task of film production. She has become a self taught director, DP, editor, script writer, FX gal on many levels, set designer, and producer. She loves passionate artists and wishes to inspire more indie work for everyone. She has had the pleasure of working with many amazingly talented people, and she strives to help pave the way for the artist who isn't in the main stream. For more information on Tiffany as an actress, please visit www.tiffanysinclair.com
Contact: sinclair@carsinogeniccandy.com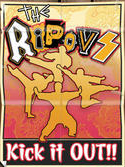 The Ripovs!: Mikey, Phredd, Brent, and the Mighty J crank out old school loud ass rock. Being the awesome souls that t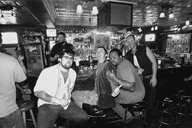 hey are, you'll be able to hear their blaring tunes in various bar/party scenes that we have in upcoming films. And pretty much anywhere else we can sneek in their Ramones like ruckus! In the meantime, you can check them out for yourselves at:
http://www.myspace.com/loudassrock